WELCOME TO
FRAUENMISSIONSWERK
Our goal is to improve living conditions for women and girls in particular wherever they live and throughout the world. That's why we are committed to developing and maintaining effective social structures.  This also benefits the respective society as a whole.
A woman who is strong and aware of her power can change the world.
It is often women who ensure that a society is cohesive, that it can thrive and evolve, and that its values are passed on to the next generation. The future of the planet also depends on women and girls being empowered, well-educated, and able to fulfill their potential.
Reality still looks very different in many places around the globe: in many countries, women and girls are disadvantaged and marginalized, oppressed, harassed and persecuted. The Pontifical Mission Society of Women in Germany (Frauenmissionswerk) is a worldwide movement of women committed to empowering women and girls worldwide. Incidentally, it was the German Christian teacher Katharina Schynse who first laid the foundations for this as early as 1893. Today, the Women's Mission Society is an autonomous, independently operating organization under pontifical auspices.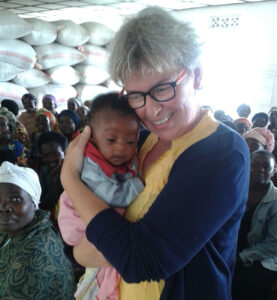 OUR VALUES
Together for the one world.
OUR PROJECTS
We are committed to better living conditions worldwide, especially for women and girls.